Bombele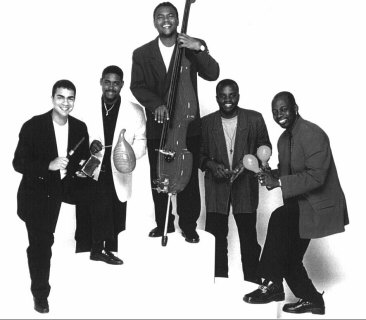 11 piece Colombian style salsa band, based in London
Luisito Mosquera: Lead Vocalist
Luisito comes from Buenaventura on the pacific coast of the pacific coast of Colombia. He started singing when he was school where he was dancing to the folkloric music of Colombia. Later he became the lead singer of Grupo Bahia and travelled around Latin America coming to England in 1995 with the group to play at the Gran, Gran Fiesta alongside Los Van Van from Cuba.
Since settling in London he has sung with notable people from the salsa community including Adalberto Santiago from the Fania All Stars and Orlando Wattussi from Venezuela and took part in the Barbican Centre festivals alongside Toto La Momposina. Luisito's velvet voice and huge smile have won him contracts and guest appearances with bands throughout the UK and can be heard on voice-overs for films and adverts.
In 1997 Luisito created 'Bombele Orchestra' which is one of the most respected bands in the UK, bringing together the best musicians that he had met on his travels around the UK and taking the sound of salsa out to the dancing public.
Line-up: 2 Vocalists, Keyboards/Violin, Bass, Congas, Timbales, Bongo, Trumpet, 2 Trombones.
To book: call 020-8808 4290 or email: info@salsadirect.co.uk