Duende!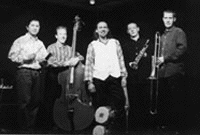 Seven piece Salsa band Duende- this exciting, authentic outfit has taken the South-West by storm and is rapidly gaining a solid reputation in the Latin entertainment scene.
Their repertoire includes uplifting Salsa and Merengue rhythms, as well as instrumental Latin jazz and romantic ballads, most of which are their own compositions.
Duende's leader and frontman, Honduran-born Ramon Vallejo, has extensive experience as a band-leader and composer since 1991, including associations with the Afro-Cuban Allstars and members of the Buena Vista Social Club.
For booking info please contact:
Salsa Direct 07956-395018 or email: duende@salsadirect.co.uk