Orquesta Huracan, based in Birmingham, was formed in October 1998. This formidable Latin orchestra can offer hot, dance floor salsa, as well as latin jazz. Incorporating 'son montuno', 'comparsa', and 'rumba', Orquesta Huracan is as versatile, as it is energetic and entertaining.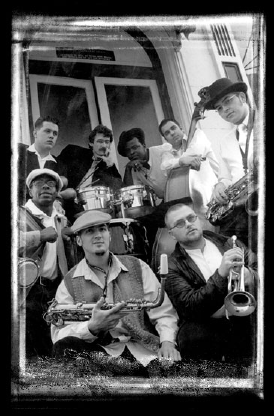 The group has performed regular headline concerts nationwide at top venues such as Ronnie Scotts, Casa Latina, Adrian Boult Hall, World Beat Festival, and Ipanema Latin American Restaurant and Club.
In addition to their infectious live sound, Orquesta Huracan can complete your event by adding any of the following options. These include a professional Latin Dance Show from one of the country's leading exponents. Orquesta Huracan also has experience in leading education workshops that explore the wide range of Latin music styles and rhythms. Furthermore, with skilled Salsa dancers Richard and Alek, Orquesta Huracan can offer you a fun and enjoyable Latin Dance Masterclass. Popular with audiences everywhere, this is a must for novices and the more experienced.
Orquesta Huracan can provide a series of events to suit any requirements you may have; just contact the group and they will be willing to discuss your arrangements for an unforgettable day. They are flexible in size from 6 to 10 musicians.
Musician line-up: lead vocals,congas, bongos/percussion, timbales, piano, bass, trumpet, alto saxophone/vocals, tenor saxophone, and trombone
To book, call: 07956-395018 or email info@salsadirect.co.uk