Scottish Samba band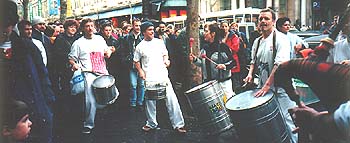 MacUmba are a group of eight musicians based in Scotland who mix the traditional sounds of Scottish bagpipes with the sounds and rhythms of Brazilian and Caribbean percussion.
We began as a batucada (or drumming group) which grew out of a series of drumming workshops held at the Glasgow School of Art. Subsequently, we added various combinations of flutes, guitars, bass, voices etc. to our batucada, and performed at many events throughout Scotland. About six years ago, we were asked to play at a football cup final, and added bagpipes to the batucada to be more in line with the football tradition of bagpipes and drums. This combination proved very popular, and since then we have played at many events and festivals all over Europe, in Japan, the USA, Cuba, and in Venezuela.
The normal instrumentation of the band is three pipers and five percussionists, although we may also be augmented by the addition of Scottish or Brazilian dancers.
Recent festivals we have played at include...

The World Cup in France where we supported the maracatu 'nation' NACAO PERNAMBUCO at the Village du Brezil, Saint Denis, Paris.
The 20th Fiesta de la Rumba in Havana, Cuba, where (although we are not a rumba group) we were privileged to appear with many famous rumba groups.
The international MUNDO CELTA festival in Ortigueira, Galicia, where we appeared with many other bands from Celtic nations.
Recent radio and television appearances include...
Radio Progreso in Havana, Cuba
Univision in Miami, Florida
Music Live, BBC Glasgow and UK.
MacUmba have worked closely with the British Council and Scottish Trade International on several occasions. We perform in costume which adds a very visual aspect to MacUmba's live performances.

What's been said
"Wow, book this band immediately - they'll be a sensation!"
The Inverness Courier
"This is fiery stuff that will set the blood alight."
The Scots Magazine
"MacUmba, a beast apart from any other Scots ethnic/roots band, and a wonderful one at that. Don't Hold Your Breath is music to marvel at."
John O'Reagan
To book: email:info@salsadirect.co.uk

or phone: 0208 808 4290