Palenke- Latin Salsa Band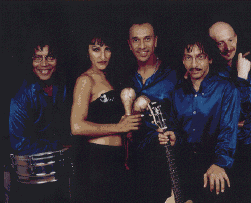 Now one of London's leading Latin-American dance bands, Palenke was born in 1990 to the collective talents of Fernando Suarez - 'Kinacho' - and Lisandro Zapata. Both are highly professional performers and are widely experienced in the Latin and jazz scene.
Palenke is an all-singing upto five piece band with piano, guitar, bass, congas, bongos and timbale. Fronted by lovely diva Adriana Santana on lead vocals, Palenke has an eminently danceable repertoire which includes Salsa, Lambada, Cumbia, Merengue and reggae. Palenke has toured extensively abroad and has performed for King Hussein of Jordan and King Carlos of Spain. This salsa band are also well known throughout the UK having performed for Prince Charles, and at the Barbican Centre, The South Bank, the Edinburgh Festival and on several TV shows.
Listen to this Salsa band below
Palenke song medley

For Booking Palenke please email: