SALSA DIRECT - THE No. 1 UK SALSA
& LATIN MUSIC, MARIACHI BAND & DANCE AGENCY
Supplier of Latin dancers and musicians to BBC Strictly Come Dancing
Based in London, but with groups countrywide, Salsa Direct is the UK's premier specialist agency for authentic Mexican Mariachi bands, salsa bands and latin music groups and musicians of all Latin American styles.
Whether you are looking for Mexican Mariachi bands, Cuban / Colombian Salsa, Dominican Merengue, Spanish Flamenco or Gipsy Kings, Argentinian Tango through to the old Havana Buena Vista Cuban 'Son' sound, Peruvian Panpipes, Brazilian Samba with Carnival dancers, Latin-Pop, Latin-Jazz, or very much more that you may not yet have heard of - we have the lot!
We also supply Latin dancers, Brazilian carnival dancers, Salsa / Merengue / Tango / Lambada / Reggaeton / Bachata dance shows / cabaret, and dance teachers / instructors and Latin DJ's, in a wide range of styles: from steamy Cuban to exotic Carnival in Rio Brazilian dancers with feather headdresses, traditional Mexican Hat Dancers, sultry Tango, Latin Ballroom, South American Folk dancers - even fiery Caribbean Limbo, and the Mexican mariachi bands to create a fiesta as seen on TV, all in full authentic costume.

Established for 22 years, we are based in London, UK, but supply our artistes internationally, as far as Dubai, Jordan, Lithuania, Egypt, Kuwait, Bahrain, Russia and even South Africa and South America.

Here at Salsa Direct, we know the strengths and specialities of all our personally-vetted acts, and will give you a carefully tailored selection of the acts we believe to be the most suitable for your event, be it a private party, a wedding, a festival, or a high profile TV advertising campaign or international product launch.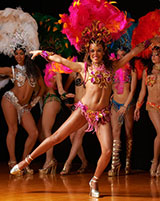 Our bands and dancers are based throughout the UK, so we always aim to find you the most suitable local act, to keep prices down. We have the largest up-to-date roster of specialist Latin artistes of all of the UK's agencies, and we regularly supply all the other major Agents and Events or Function Planners who come to us for our vast knowledge of Latin American culture, and of the suitability of an act for any specific event.
So if you have found Salsa Direct, you are cutting out the middle man!
email us
or call the Salsa Direct office on:
(UK +44) / 07956 395018
We also have a huge ideas-bank (including decor and catering) to help you to make your theme night the most imaginative and successful one ever!
Whether you want a hot and spicy full-on dance night, a crazy Mexican Mariachi Fiesta, or a laid back cool jazzy reception, we have the very thing for you.
Some of the Events that we have supplied for:
weddings
private parties, Summer Ballsbarmitzvah's/batmitzvah's
christenings, funerals and marriage vow renewals
celebrity/royalty functions

clubs/ bars
(MNKY House, Cafe de Paris, La Floridita, Bar Salsa, Revolution Bars nationwide, Havana, Cuba, Down Mexico Way etc)
restaurants
(Oxo tower, the Roof Gardens, Trader Vic's - Hilton, Latin Square, Cafe Royale etc)
Hotels
(Savoy, Hilton, Crowne Plaza, Sheraton, Kempinski etc)
Function venues
(Vinopolis, One Embankment, London Aquarium, Tower Bridge, Natural History Museum, castles, National Trust venues, G-Casino's etc)
Military establishments and RAF Balls

shopping centres
(Whiteleys, Lakeside Thurrock, Bullring, Highcross Leicester etc)
shop promotions
(HMV, Harrods, Debenhams, World Duty Free Heathrow, Gatwick Airports, Manchester, Birmingham, London City, Liverpool, Edinburgh and Newcastle Airports etc)
product launches
(Brugal Rum, Bacardi, Havana Club, Corona, Old el Paso etc)
corporate events
(Legal & General, HSBC, Vodafone, Financial Times etc)
conferences
(Greenpeace, Friends of the Earth, Nicaragua Solidarity campaign)
political rallies/campaigns
(Anti-Trump rally, Labour Party, Lib-Dem, Marxist, Trades Union rally )
Award Ceremonies/ Charity Fundraiser Events
(VSO, FNZ, Diabetes UK, Lupus, Cancer Research Moonwalk etc)
staff training / team building events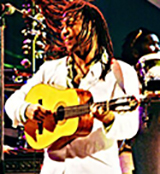 salsa weekends/clubs/classes
holiday camps
(eg Butlins)
cruise lines
(P & O, Carnival, Fred Olsen, Royal Caribbean, Fjord Line)
Strictly Latin / Ballroom/Come Dancing nights
TV programs
(Strictly Come Dancing, 9 out of 10 Cats, Generation Game, Off Their Rockers, CBBC Marrying Mum and Dad, Graham Norton show, Channel 4 Maxxx Comedy Dama, ITV Lord Lucan Drama, BBC drama: By Any Means, Hollywood film "Red 2", Channel 4, BBC: Happiness/My Family/ Alexei Sayle etc)
Festivals and Arts centres
: (Womad, One World, The National Theatre, West Dean Chilli Fiesta, and throughout Europe )
OUR CURRENT PROJECTS
2019-20 has been a fantastically busy year for Salsa Direct, with many events echoing the World football events and featuring Mariachi bands for Donald Trump state visits. Seemingly every business and family party was planning a Brazilian or Mexican themed party, all requiring a Mariachi band or Brazilian Samba band and dancers! And guess who got a call to provide a Cuban band and dancers for the latest Bond Film to be released very soon in 2020? One of our biggest scoops was to win the contract to provide permanent Cuban salsa dancers and dance teachers on a cruise line between Havana and Miami, 365 days of the year, personally vetted and approved by Obama himself, and we sent the same Cuban dancers to perform and teach Salsa on a fantastic luxury cruise liner through the Middle East right to the Maldives, and then from South Africa all the way to Spain! In October we also sent our Cuban dancers on the 18 date UK-wide Rolling Stones Havana Moon Tour.
We have also been sending Mexican Mariachi bands and dancers to all manner of events, not least the Facebook summer and Christmas parties, and salsa and Brazilian bands and dancers to places as far flung as the Caribbean and Norway (Fred Olsen cruises), the Kempinski hotel Kuwait, Kaunas - Lithuania, and the Crowne Plaza Bahrain (who we have supplied with New Year entertainment regularly).
Above all, 2019 saw us send Mexican Mariachi bands daily to every kind of event imaginable, with the highlight being supplying our Mariachi Tequila Mariachi band to the Daily Mirror newspaper, to be rebranded as the Mirrorachi band to hail the visit of President Trump to Britain, a fantastic stunt which then flooded social media for days. Our mariachi bands have performed on buses, on the tube, on TV and film, at weddings and parties, office boardroom meetings, awards ceremonies, festivals, as a surprise at romantic marriage proposal dinners, and even popping up in a field in the countryside!
They have also performed at a chain of Holiday Parks all around the UK, bringing pleasure and fun to thousands this Spring and Summer.
We coined the idea of the "Mariachi-gram" or "Tequila-gram" where you can book a Mariachi band to arrive at your door and sing your favourite song, even presenting a bouquet of flowers, which has been ordered from as far away as Dubai!
We supplied a Cuban band for the Hollywood Blockbuster film "Red 2" filmed partly in the UK, featuring our very own Yambu band on set with Bruce Willis and John Malkovich and a huge list of other film stars. Our Mariachi Tequila band has been on TV many times, both for comedy sketches, and a more serious ITV Lord Lucan drama. We supplied a Salsa band to play for Sunetra Sarker (of Casualty fame) and Brendan Cole to learn Salsa to, on the BBC's Strictly series, a Caribbean Steel pan band to the Children's BBC programme "Marrying Mum and Dad", and sent our showstopping Chinese Lion dancers to the Chinese New Moon festival celebrations at Manchester airport. We also sent a Brazilian Samba band to the Bahrain Grand Prix, and supplied Mexican Mariachi and Latino musicians for many advertising shoots and TV campaigns, including for Citroen.
We have 16 NEW carefully vetted Latin bands and dance acts added to our books this year distributed throughout the UK, from Scotland, Yorkshire, Manchester, Leeds, Hertfordshire, London, Kent, Essex, Birmingham and the South West, so regular clients of Salsa Direct can try something new! Due to demand from one of our repeat clients, we have now also added a Korean harpist and drum group, Chinese Lion dancers and acrobats, a tango music group, a fun Mariachi band playing entirely English pop songs, a Russian Gyspy duo, an African Senegalese Kora player, a snake charmer and Nigerian dancers to our books.
email us
or call the Salsa Direct office on:
(UK +44) 07956 395018

STOP PRESS...... We still have some availability of acts for this year's Day of the Dead and Halloween parties, Christmas /New Year celebrations in many regions of the UK and abroad, and Valentines Day 2020 and Cinco de Mayo (Mexican 5th May independence day) are already getting booked up - contact us now to discuss your needs!
Without doubt, our most popular act this year continues to be Mariachi Tequila band performing either traditional Mexican music or their famous cover versions of English Pop songs in Mexican Mariachi style - they have delighted at everything from weddings, birthdays and even a funeral service and wake.


We were nominated for the prestigious LUKAS Awards for outstanding contribution to Latin Business in the UK - AND WON 2nd PLACE - of which we are very proud!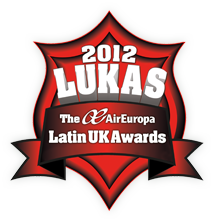 Please get in touch to discuss your idea with us:

email us
or call the Salsa Direct office on:
(UK +44) 07956 395018
We speak English & Spanish (se habla español)
No enquiry is too small or too crazy !
We can offer you Latin Salsa and Mariachi bands and salsa and carnival samba dancers in:
London, Surrey, Sussex, the Home Counties, Hertfordshire, Essex, Brighton, Portsmouth, Gloucestershire, the South East, Kent, Essex, Devon, Dorset, Cornwall, East Anglia, Ipswich, Norfolk, The Midlands, Birmingham, Coventry, Warwick, Wales, Yorkshire, the Midlands, York, Manchester, Leeds, Herefordshire, Shropshire, The North, The North East, The North West, Liverpool, Manchester, Leeds, Sheffield, Newcastle, Hull, Durham, Harrogate, Scotland, Glasgow, Edinburgh, Aberdeen, the Hebrides, Ireland and Northern Ireland, the Isle of Wight, Jersey, Guernsey and Internationally. We have sent bands to Lithuania, Spain, France, Germany, Switzerland, the Caribbean, Russia, Kazakhstan, South America, Dubai and the Middle East, India - and more.
Tell us where your event is happening, and we will provide the entertainment!!