Mexican Mariachi bands selection, from Salsa Direct
Salsa Direct is the ONLY agency in the UK to have in-depth knowledge of all the Latin styles, and which band offer what, countrywide, without any personal bias.
Below you will find a selection of our most popular authentic MEXICAN MARIACHI bands.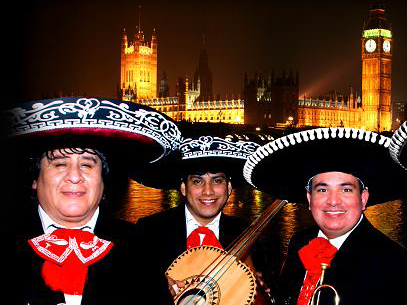 Mariachi music is both joyful and haunting, and very reminiscent of Mexico, where groups of musicians roam the squares ready to strike up any requested song in exchange for a few Pesos.
Typically they can perform with as few as 3 upto 8 or more musicians, and the more you add, the fuller the sound. The instruments will include guitar, the tiny Requinto guitar, and big bass Guitarron with voices in beautiful harmonies. Add to this core the trumpet, violin, vihuela, accordion and percussion- the possibilities are endless.
There is a modern trend for playing English Pop songs in Mariachi style, many of our bands below have adapted fun pop songs to please English audiences. We represent a number of Mariachi Bands whose repertoire includes some of the music performed by the Mariachi Doritos band with whom our bands have no connection or involvement.
They are characteristically dressed in Mariachi uniform with coloured sarapes, black trousers with silver disks embellishing the side seams, and dress shirts, topped off with the much-loved sombrero.
They often roam around while they play acoustically, and as well as the musical brilliance of the lively corridas and sad romantic boleros, their appearance transports audiences away to Mexican climes, making them ideal for themed events and product launches, as well as wedding party receptions and summer garden parties.
These Mariachi bands are the Real Deal, no party gimmic bands with fake moustaches here!
They are often hired to pop up as a surprise at a birthday, wedding or other occasion, with all the charisma of the Mariachi fiestas you may have seen on TV.
In Mexico, Mariachis often help celebrate the great moments in the lives of the Mexican people. With the serenata (seranade), the Mariachi participates in the rite of courtship. In a society where the young members of opposite sexes were kept apart, the serenata was a means of communication by which a young man could send a message of love to the woman of his heart.
In many areas of Mexico, it is not unusual to be awakened by the sound of "Las Mananitas", the traditional song for saints' days and birthdays. The Mariachi is usually positioned strategically on the street beneath the window of the celebrant, but the sound of its music echoes through the whole neighborhood. Mariachis are also commonly hired for baptisms, weddings, patriotic holidays, and even funerals.
Listen to the various bands' audio samples, and if you are in any doubt contact us for advice on their suitability.

We also supply Mexican folkloric dancers to complement the Mariachi groups, even to entertain children, and Latin DJs

Mariachi bands are based mainly in the London area and Glasgow, Scotland, but are accustomed to travelling, the ones listed are all very punctual and reliable!
Please click on the name of each band below, to see a page about them with music samples. When you have seen each one, hit the "back" button on your browser to return to this page.
MARIACHI TEQUILA
(London based)
LOS CHARROS
(London based)
MARIACHI AZTECA
(London based)
MARIACHI GUADALAJARA
(London based)
MARIACHI RAPIDO

(Glasgow Scotland based)

Please get in touch to discuss your idea with us:
We have a Mariachi Band, Mariachi TV band for hire, Mexican Band, Salsa Band or Latin Band available in your area for Quinceanera's, Cinco De Mayo, Birthdays, Fiestas, Ano Nuevo, Natilicio de Benio Juarez, Dia de las Madres, Lunes del Cerro Festival, Dia de la Independencia and Navidad.
Mariachi bands in London, Mexican Mariachi group in Scotland, Mexican music in Cheshire, Mariachi Band West Midlands, Hounslow Mariachi Band, Mexican music Essex, Mariachi, Mariachi Bands West Midlands, Mariachi Yorkshire, Norfolk, Sussex, Surrey, Mexican Musicians Cheshire, Mariachi Doritos, Mariachi Cumbria, Mariachi Carlisle, Glasgow, Aberdeen, Edinburgh, Mexican Mariachi, Mariachi Band, Mariachi Guitar, Mexican, mexico, banda, corrido, sombreros, tijunana, tijuanna, tiwana, salsa, nortena, romantico, romantic, guitarron, zorro


email us or call the Salsa Direct office on:
(UK +44) 07956 395018





We speak English & Spanish (se habla español)

No enquiry is too small or too crazy !
We can offer you Latin Salsa bands and dancers in:
London, Surrey, Sussex, the Home Counties, Hertfordshire, the South East, Kent, Essex, Devon, Dorset, Cornwall, East Anglia, Ipswich, Norfolk, The Midlands, Birmingham, Coventry, Warwick, Wales, Herefordshire, Shropshire, The North, The North East, The North West, Liverpool, Manchester, Leeds, Sheffield, Newcastle, Hull, Durham, Harrogate, Scotland, Glasgow, Edinburgh, the Hebrides, Ireland and Northern Ireland, the Isle of Wight, Jersey, Guernsey and Internationally. We have sent bands to Lithuania, Spain, France, Germany, Switzerland, the Caribbean, South America, Dubai and the Middle East, India - and more.
Tell us where your event is happening, and we will provide the entertainment!!