Argentinian Tango bands, orchestras, and dancers, from Salsa Direct
Salsa Direct is the ONLY agency in the UK to have in-depth knowledge of all the Latin styles, and which band offer what, countrywide, without any personal bias.
Below you will find a selection of our most popular authentic ARGENTINIAN TANGO bands and dancers.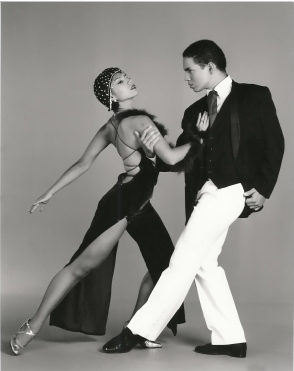 The haunting and seductive sound of the Tango from Buenos Aires, Argentina, has become popular throughout the Western world.
Argentine tango is a social dance and musical style, played by a dance orchestra. Its lyrics and music are marked by nostalgia, expressed through melodic instruments like the bandoneon. Originating at the ending of the 19th century in the working class suburbs of Buenos Aires it quickly grew in popularity and was internationally spread. Among its leading figures are the songwriter Carlos Gardel and composer Astor Piazzola.
It is said that the close proximity in which the dancers dance, originated from the overcrowded dance-floors. There are several forms of Tango, including Milonga and Tango Nuevo, and several touring Tango shows have demonstrated the spectacularly theatrical and improvised forms of the dance.
Listen to the various bands' audio samples, and if you are in any doubt contact us for advice on their suitability.

We also supply World-Class tango dancers and instructors, who can work both on their own and together with the bands.
Please click on the name of each band / artiste below, to see a page about them with music / video samples. When you have seen each one, hit the "back" button on your browser to return to this page.
LOS MAREADOS TANGO BAND
(London based)
BUENOS AIRES TANGO ORQUESTRA (BATO) (London based)
CESAR AND CAROLINA TANGO SHOW (London based)
MARSHA TANGO SHOW (London based)
MENA AND GERLADO TANGO SHOW (London based)

SUBITANGO/TIEMPO DE TANGO SHOW

(London based)

TANGO SIEMPRE BAND

(London based,currently working in "Midnight Tango" West End show)

Please get in touch to discuss your idea with us:


email us or call the Salsa Direct office on:
(UK +44) 07956 395018





We speak English & Spanish (se habla español)

No enquiry is too small or too crazy !
We can offer you Tango bands and dancers in:
London, Surrey, Sussex, the Home Counties, Hertfordshire, the South East, Kent, Essex, Devon, Dorset, Cornwall, East Anglia, Ipswich, Norfolk, The Midlands, Birmingham, Coventry, Warwick, Wales, Herefordshire, Shropshire, The North, The North East, The North West, Liverpool, Manchester, Leeds, Sheffield, Newcastle, Hull, Durham, Harrogate, Scotland, Glasgow, Edinburgh, the Hebrides, Ireland and Northern Ireland, the Isle of Wight, Jersey, Guernsey and Internationally. We have sent bands to Lithuania, Spain, France, Germany, Switzerland, the Caribbean, South America, Dubai and the Middle East, India - and more.
Tell us where your event is happening, and we will provide the entertainment!!