South American Andean Panpipe and folk bands, from Salsa Direct
Salsa Direct is the ONLY agency in the UK to have in-depth knowledge of all the Latin styles, and which band offer what, countrywide, without any personal bias.
Below you will find a selection of our most popular authentic Panpipe and South American Folk music bands and dancers.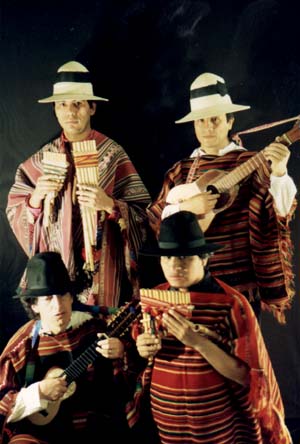 From the haunting and plaintive sound of the Peruvian or Bolivian Panpipes, to the exotic lilting of the Andean Harp, we can provide you with the ultimate atmospheric music for your event.
Panpipes have become popular in the UK since the arrival of refugees from Chile during the oppressive regime of Pinochet, and Britain was won-over by the beautiful music, which is often heard at festivals and on the streets in summer.
Evocative of documentaries showing eagles soaring above snow-capped Andes mountains, and catchy enough to get our feet tapping without effort, they provide the ideal background setting to many events, and are frequently used for advertising and product launches.
Listen to the various bands' audio samples, and if you are in any doubt contact us for advice on their suitability.

We also supply colourful folkloric dancers and instructors, who can work both on their own and together with the bands.
Please click on the name of each band below, to see a page about them with music samples. When you have seen each one, hit the "back" button on your browser to return to this page.
KATARI PANPIPE BAND
(London based)
BAJARQUE South American Folk band

(London based) )

BREJEIRO Brazilian Choro Folk band

(Bristol based)
DIEGO Andean Harpist (London based)

Please get in touch to discuss your idea with us:


email us or call the Salsa Direct office on:
(UK +44) 07956 395018





We speak English & Spanish (se habla español)

No enquiry is too small or too crazy !
We can offer you Peruvian Panpipe bands and dancers in:
London, Surrey, Sussex, the Home Counties, Hertfordshire, the South East, Kent, Essex, Devon, Dorset, Cornwall, East Anglia, Ipswich, Norfolk, The Midlands, Birmingham, Coventry, Warwick, Wales, Herefordshire, Shropshire, The North, The North East, The North West, Liverpool, Manchester, Leeds, Sheffield, Newcastle, Hull, Durham, Harrogate, Scotland, Glasgow, Edinburgh, the Hebrides, Ireland and Northern Ireland, the Isle of Wight, Jersey, Guernsey and Internationally. We have sent bands to Lithuania, Spain, France, Germany, Switzerland, the Caribbean, South America, Dubai and the Middle East, India - and more.
Tell us where your event is happening, and we will provide the entertainment!!